LINOLEUM & MARMOLEUM

What is Linoleum?

Well, it is not the sheets of colored flooring we see in most floor covering stores. Those sheets are actually vinyl. Vinyl long ago replaced linoleum as the dominant sheet flooring

material, yet people still refer to any sheet flooring as linoleum. People mainly quit buying

linoleum because it used to come in a small assortment of drab colors that faded over time. Vinyl came out with a variety of bright colors and patterns and quickly blew linoleum rightout of the market. Linoleum never really went away, however; it continued to be manufactured in Europe on a small scale until recently. Now linoleum is making a comeback and for some very good reasons.

Linoleum is still made much the same as when it was invented in the mid 1800s, with natural and easily renewable materials. The main component, linseed oil, is pressed from flaxseed. The oil is dried and then ground into a fine powder binder known as "linoleum cement." The cement is combined with pigments, pinerosin, and pine flour obtained from planted forests in Europe. This mix is heated and run through rollers that press the flooring into a sheet and onto a fabric backing. *Note that ingredients and procedures vary.

Benifits of Linoleum:

Linoleum is now available in sheets or tiles in a variety of vibrant hues. It remains very durable, often lasting for well over 20 years in commercial applications. It is actually called a "40-year floor" because its color design goes all the way through the material and years of extensive wear will actually reveal deeper levels of color. When linoleum is finally worn out, it is biodegradable! Linoleum does not contain any asbestos, formaldehyde, or other hazardous ingredients and no toxic by-products result from the manufacturing process. Linoleum actually gets tougher with time as the linseed oil continues to cure, so its static load limit is double that of many vinyl composition tiles. Linoleum is also antistatic so it repels dust and just needs to be vacuumed and damp mopped occasionally. Linoleum does not melt so burns just rub away with a nylon pad.

* Master Certified Linoleum/Marmoleum installer*

     CORK

Cork is beautiful and available in a wide variety of colors and shades, from very light to dark. There is a cork floor to match anyhome décor. It also comes in a wide variety of textures and patterns, including marble and wood grain patterns that resemble pergo flooring.

Cork is a great insulating material. It keeps your home warmer in the winter and cooler in the summer. The energy efficiency  aids in cutting energy bills in the winter. It is much more energy efficient than either laminate flooring or discount wood flooring. Cork is also good for sound insulation. It helps cut down noise from another room, or another floor.

It is softer on your feet than ceramic tile, wood or stone flooring material. This is more comfortable in the kitchen, where you may spend a lot of time on your feet. In addition, if you drop a dish, it won't break as easily as it would on a tile or stone floor. Another benefit, cork is naturally fire retardant.

Cork is also good for the environment. It is made from the bark of the cork oak tree. These trees grow primarily in Spain and Portugal. The trees are not cut down. The bark is stripped away, typically every 9 years or so, without killing the tree. It immediately begins to grow back and can be peeled again about every nine years. This flooring does not contribute to deforestation, which is considered a big problem on our planet today.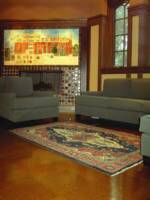 RUBBER AND RECYCLED RUBBER

Durable, colorful and inexpensive surfacing from old radial tires? This recycled rubber flooring is as strong and resilient as original tire rubber minus the reinforcing scrim. It's slip-resistant and is ideal for indoor or outdoor uses. Weather resistant,it withstands extreme temperatures and its low VOC emissions meet U.S. indoor air quality specifications and guidelines. Pigment is added to provide a rainbow of color choices.

Rubber trees are exceptionally good at absorbing CO2 from the atmosphere.  They are also a totally renewable source material.  The manufacturing process is significantly more energy efficient than for any comparable product.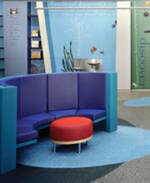 Custom Design Solutions can help you with the installation of any of these eco-friendly surfaces for your home or business.